How To Supply Print Ready Artwork Files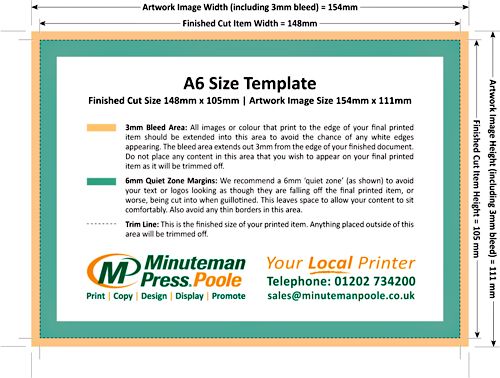 Print Ready Artwork
Print Ready Artwork should be supplied as a "Print Ready PDF" set in line with our templates below.
If a PDF is print ready, then all fonts and elements should be embedded within the file so that they can't 're-flow' or disappear. A TRUE PDF (Portable Document Format), when written correctly, will give consistency of image and content when it is transferred elsewhere, such as to another computer or any printing device - which includes to commercial printers, such as ourselves. Where possible we normally carry out a re-processing of your PDF to ensure that these elements are embedded.
So...when we send you back a PDF proof of your job, it is your responsibility to check that nothing has moved or is out of place. With OUR PROOF, on your screen, "What You See Is What You Get" in terms of content placement - although beware...if your screen is not calibrated, it cannot be relied on to assume the final colour of your job (additionally...screen colour spectrum's are different than the full colour printing process).
Artwork Templates to Download
Please click on the bold title of the relevant template below to download:

Business Card Template (85mm x 55mm)
DL Compliment Slip Template (210mm x 99mm)
For Corporate Folder Templates please call or contact us for further information.
If the templates are a different orientation to the job you are preparing, then please just turn the image 90 degrees as all the requirements and measurements are still the same.
Additional Print Artwork Guidance Notes:
An Explanation of Bleed: Bleed is excess image that extends beyond the trim line. It is required for commercial printing when any image or elements on the sheet are intended to touch the edge of the page (go right to the edge). When a document has bleed, it must be printed on a larger sheet of paper or card and is then trimmed down to the finished size. Cutting with the bleed (excess image beyond the cut line) stops white margins appearing and allows for small variations that occur when the job is trimmed or die cut.
We Suggest A 'Quiet' Zone/Area: When your printing is trimmed to size, if you don't want your text or logos to look as though they are falling off the page, or worse, be cut into, then we recommend a 'quiet zone'.  This leaves a space at the edge of the artwork to allow text and logos to sit comfortably on the page without any risk of them looking like an afterthought.
Using Borders: We strongly recommend not using thin borders in your design, particularly on small items such as business cards or postcards. This is because any small movement on the guillotine or during die cutting could make your border look uneven and unprofessional. Thin borders, especially if they are meant to be identical on multiple edges, can cause a nightmare and may even upset the balance of your whole design!!.